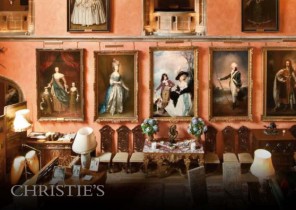 Christie's (Magnificent European Works of Art)
Client
Christie's, the world's leading art business, had a global auction and private sales in 2011 that totalled £3.6 billion. Christie's is a name that speaks of extraordinary art, unparalleled service and expertise, as well as international glamour. Founded in 1766 by James Christie, Christie's has since conducted the greatest and most celebrated auctions through the centuries providing a popular showcase for the unique and the beautiful.
Brief
The creative department were looking for a high quality, professional marketing brochure to complement the Magnificent European Works of Art sale. The project demanded the highest quality materials harnessing the latest finishing techniques to reproduce the look and feel of the physical auction – it was key that the final product harmonised the Auctions' elegant pieces and did the heritage of such pieces justice.
Solution
The 32 page auction brochure was produced entirely in-house. Comprising of a 350gsm Silk board cover over 200gsm inner pages text pages. Text pages were matt coated throughout not only to ensure a luxury feel was felt as each page is turned but also to lift the images off the page. The cover was finished in a luxury new soft-to-the-touch laminate. The material, which is neither glossy nor matt (like conventional laminates) is more scruff resistant than standard matt laminate and is ideal for finishing of high quality luxury brochure covers like this.
In this instance the soft-to-the-touch laminate has been used in combination with other finishes to create contrast. The finished piece has a combination of Cellotouch, spot UV and foil blocking. The top-notch printing techniques and varnishes complemented the designs and communicated the feeling of luxury and sophistication that it's clients expect from such a prominent brand. In addition all text pages were matt coated in-line using our Ryobi 750 press which added an extra level of finish unachievable by other printing methods.
The artwork was supplied to Alp Print. Our printing and finishing more than complemented the clean grids, detailed product illustrations and high-end photography which resulted an informative and impressive piece.
Alp Print Comment
Lee Sands, Christie's account manager for ALP Print says: "We have consistently provided the level of quality and finish required for all Christie's jobs… they have always relied on our knowledge and expertise to provide the marketing and design department with the latest materials and finishes. We have built a great working relationship,"