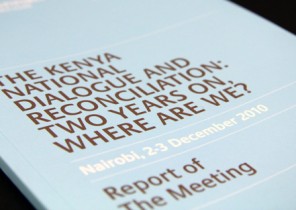 Provokateur (Kofi Annan Foundation)
Client
The Kofi Annan Foundation works to promote better global governance and strengthen the capacities of people and countries to achieve a fairer, more secure world. To advance this mission, the Foundation has developed programmes and partnerships. In 2001 Kofi Annan and the United Nations were jointly awarded the Nobel Prize for Peace.
To quote their own website: "Provokateur is a talented team of passionate people: strategists, designers, developers, copywriters, account managers, illustrators and more. They're ambidextrous, polite and above average height. Most importantly, they know their beans."
Brief
Provokateur approached us to produce a high quality 116pp report for the Kofi Annan Foundation. The final product not only had to meet the simple and clear design concept but also warranted the highest quality materials and finish that was demanded of such a report. This all had to be met within a tight deadline. Working closely with the designers at Provokateur we were able to agree the most suitable eco-friendly materials and finishes.
Solution
The book was produced entirely in-house. Comprising 300gsm (Satimat Green) cover over 100gsm inner pages. The cover was silk coated on the press using a eco-friendly coating and matt laminated on the outside only, this ensured the book could withstand frequent use and more importantly give a quality feel in the hand.
The book was PUR bounded and trimmed flush and although the traditional perfect binding option was considered it was decided to PUR bind to ensure the pages remained in the spine of the book.
The artwork was supplied to ALP Print in PDFx1a format. The reprographics department were able to fix a small problem with the Kofi Annan Logo on the front cover and at the same time liaise directly with Forest Stewardship Council to obtain special permission to alter the colour of the FSC logo in-keeping with the two colour print format.
Alp Print Comment
Jeff Morris, Provokateur's account manager for ALP Print says: "We were contacted by Provokateur, an ethical communications agency, sourcing a 'green' print solution for their client. Alp Print being certified with ISO14001 and FSC Chain of Custody partnered well with Provokateur's corporate and social responsibility policy. Provokateur, a new client of Alp Print, put their faith in us to deliver the book on time without compromising on quality. Alp Print were able to meet all their expectations and thus we have built a great working relationship."
Provokateur Comment
"ALP Print delivered the report to our offices on time – the final result was exceptional – these guys really know what they are doing when it comes to printing and getting the best out of recycled materials"